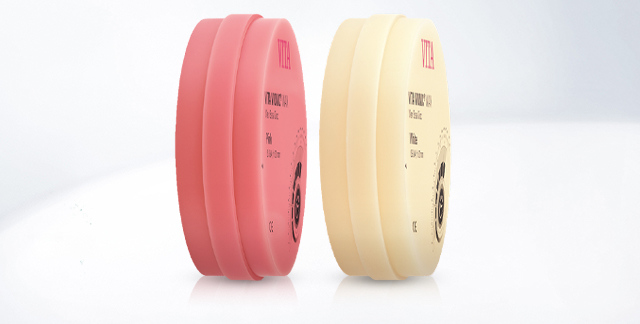 Wax disc for the fabrication of wax setups.
Features/Benefits
comfortable wax try-in
thanks to fabrication of complete CAD/CAM denture out of white wax
precise wax setup
thanks to precisely milled molds based on the digital construction
easy opportunity for correction
since the wax setup can be modified during the try-in
VITA VIONIC WAX
are shape-stable, temperature-resistant synthetic-wax blanks
Best prosthetic solution for:
Geometry
Package with 1 piece
Ø 98.4 x H 30 mm
VITA VIONIC® WAX products
VITA VIONIC® WAX
| Description | Prod. no. 1 pc. |
| --- | --- |
| Pink, Ø 98.4 x h 30 mm | ADP9830 |
| White, Ø 98.4 x h 30 mm | ADW9830 |
CAD technology partner for VITA Digital Prosthetic
Amann Girrbach AG
3Shape A/S
VITA VIONIC WAX is available for the systems*:
Ceramill Motion 2 (Amann Girrbach AG)
CORiTEC line (imes-icore GmbH)
Roland DWX line (Roland DG)
Easy download for multiple documents
Download a .zip file containing all the selected files in a single step.
Simply tick the files then click here.
Register for MyVITA now
Declarations of conformity can only be accessed with MyVITA access. You can register for MyVITA by using the following link.
Register now