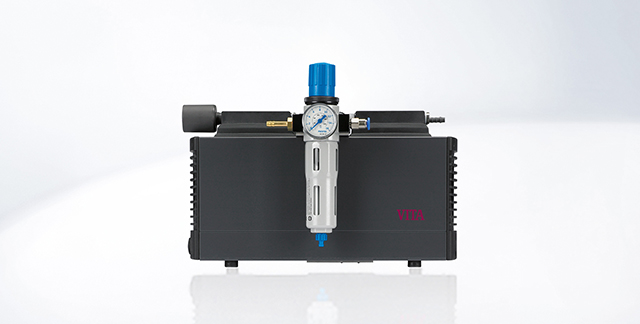 VITA vacuum pump in a soundproof box for a stable vacuum and constant level of compressed air
Vacuum pump products
| Description | | Prod. no. |
| --- | --- | --- |
| Vacuum pump (220 V) | | DVPU220 |
| Description | Prod. no. |
| --- | --- |
| Vacuum pump II (200-240V) | DVPURM220 |
Vacuum pump
| Technical data | 220 V / 50 Hz |
| --- | --- |
| Power | 80 W |
| Weight | 5,2 kg |
| Final vacuum | 30 mbar |
| flow rate | 20 l/min |
| noise level | 52 dB |
| Width | 13,5 cm |
| Depth | 31 cm |
| Height | 20,4 cm |
| Warranty | 2 Years |
Easy download for multiple documents
Download a .zip file containing all the selected files in a single step.
Simply tick the files then click here.
VITA Update Messenger
Software updates as a free service

As a registered user, you can go to subscribe to the VITA Update Messenger. Upon request you will be informed about software updates for your VITA device from VITA Equipment servicing.