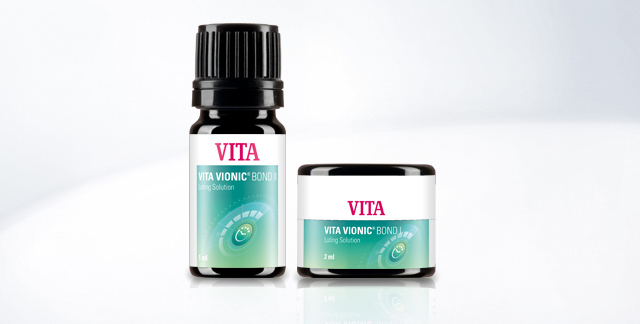 Bonding solution for fixing denture teeth in VITA VIONIC Basis.
efficient adhesive bonding of the denture teeth
without complex hot / cold polymerization processes
precise, seamless fixation of the teeth in the cavity
using a low-viscosity, self-curing bonding system
secure bond of denture teeth to the base
thanks to bonding solution tailored to the material
VITA VIONIC BOND
is a MMA-based self-curing two-component bonding system
has a low-viscosity consistency for precise application to the adhesive surface
forms a reactive boundary layer on the adhesive surfaces for a secure bond
Best solution for:
digital VITA VIONIC dentures
Contents of the VITA VIONIC BOND Kit
VITA VIONIC BOND I, jar, 2 ml
VITA VIONIC BOND II, vial, 1 ml
Microbrush, 3 pcs.
VITA VIONIC® BOND kits
VITA VIONIC® BOND
VITA VIONIC BOND KIT
AD9VBK
| Quantity | Content | Material |
| --- | --- | --- |
| 1 | 2 ml | VITA VIONIC BOND I |
| 1 | 1 ml | VITA VIONIC BOND II |
| 3 | 1 pc. | Microbrush |
Easy download for multiple documents
Download a .zip file containing all the selected files in a single step.
Simply tick the files then click here.
Register for MyVITA now
Declarations of conformity can only be accessed with MyVITA access. You can register for MyVITA by using the following link.
Register now