VITA VIONIC® BASE DISC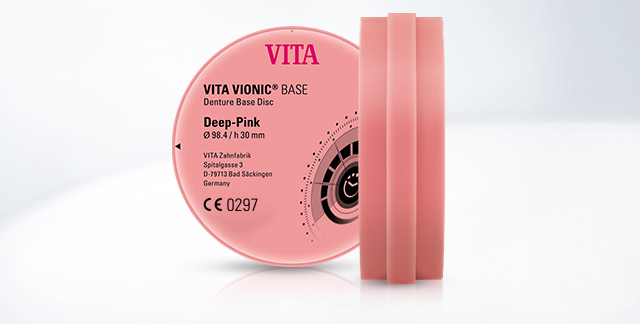 PMMA disc for the fabrication of final denture bases.
efficient base fabrication
thanks to CAD/CAM processing without manual flasking and molding
easily reproduced
since the system enables the reproduction of the base with a mouse click
excellent fit to the alveolar ridge
due to CAD/CAM technical fabrication of the base without a polymerization step
VITA VIONIC BASE
are highly crosslinked, industrially polymerized PMMA blanks
are homogeneous material blanks with the best shape and shade stability
Best prosthetic solution for:
Orange-Pink
Deep-Pink
Light-Pink
Package with 1 piece
Ø 98.4 x h 26 mm
Ø 98.4 x h 30 mm
CAD technology partner for VITA Digital Prosthetic
VITA VIONIC BASE is available for the systems*:
Ceramill Motion 2 (Amann Girrbach AG)
*) Validated VITA system partner for the processing of selected VITA VIONIC components / Validation in Progress
Easy download for multiple documents
Download a .zip file containing all the selected files in a single step.
Simply tick the files then click here.
Register for MyVITA now
Declarations of conformity can only be accessed with MyVITA access. You can register for MyVITA by using the following link.
Register now